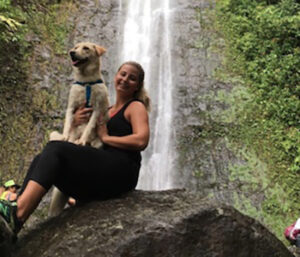 A registered dental hygienist (RDH), Ashley earned her associate degree in dental hygiene at New Hampshire Technical Institute. Ashley is certified in dental radiology and administration of local anesthesia. After graduating college, Ashley moved to Hawaii with her husband where he was stationed with the military. They returned to Massachusetts to be closer to family in New England and currently reside in Beverly.
In her role as a RDH, Ashley enjoys building a connection with her patients while making them feel comfortable and relaxed during their dental appointments. "I feel so passionate about oral hygiene and educating patients on the importance of home care and its contribution to their oral health." Ashley's friendly demeanor and kind personality make her a natural fit for the Martins Dental Partners' team.
Ashley enjoys spending time with her husband James and their dog Lanikai, hiking, going to the beach and exploring their new neighborhood in Beverly.
Q: If you weren't working for Martins Dental Partners, what would your dream job be?
A: If I weren't working for MDP as a hygienist, I would follow my interests and become a CPA, I've always enjoyed working with numbers!
Q: Other than Martins Dental Partners, what is your favorite Beverly, MA location?
A: I'm new to the North Shore so I haven't explored much of Beverly. However, I am very excited to check out Clay Dreaming Pottery Studio; I love activities like that! That being said, I'm always open to suggestions for places to check out.
Q: What is the best advice you've ever received?
A: The best advice I've ever received was to simply take care of myself. I have always been one to care for others and put myself last, but I've realized how important it is to do what's best for yourself to create your own happiness.
Q: If you could travel to anywhere in the world, where would it be?
A: Eventually I'd love to travel to other countries but first I would love to be able to experience a special part of each state in the US. I feel that every state has a hidden gem and I would love to visit them all.
Q: Who is the most influential person in your life and why?
A: I would say the most influential people in my life would be my parents. They have taught me so many life lessons big and small.
Visit Martins Dental Partners for exceptionally relaxing General & Cosmetic Dentistry in Beverly, Massachusetts. Call us at 978-288-1946 or contact us online to make an appointment to meet Ashley and the rest of our amazing dental team!