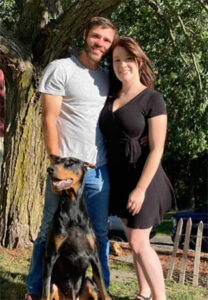 Kim joined Martins Dental Partners in 2020 as our Patient Coordinator. As the first person to interact with patients via phone, email or in person during office visits, the Patient Coordinator is an integral part of the MDP team responsible for making a great first impression and doing everything possible to ensure an amazing patient experience during each interaction with Martins Dental Partners.
With more than 10 years of customer service experience prior to joining MDP, Kim excels in her role ensuring patients feel welcomed, assisting patients with appointment scheduling or questions and generally going above and beyond to ensure an amazing patient experience.
Away from work, Kim enjoys time with her loved ones, hiking, going to concerts and caring for her 15 pets.
Q: What's the best advice you have ever received?
A: "You only live once" (YOLO)
Q: If you could travel to anywhere in the world, where would it be?
A: My next trip will definitely be to Montana – there are so many amazing state parks and things to do outdoors. I cannot wait!
Q: What are you currently reading?
A: Midnight Sun – the new Twilight book
Q: What's your favorite inspirational quote?
A: "Live each day as if it were your last"
Q: What is one unique skill that you are proud of?
A: I can pogo – with no hands!
Visit Martins Dental Partners for exceptionally relaxing General & Cosmetic Dentistry in Beverly, Massachusetts. Call us at 978-288-1946 or contact us online to make an appointment to meet Kim and the rest of our amazing dental team!