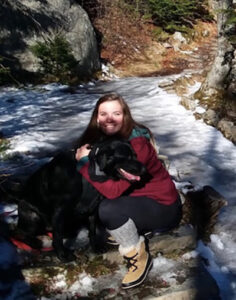 Maggie joins the Martins Dental Partners team after completing a dual program at Husson University (Bangor, ME), earning her B.S in healthcare studies and MBA in Healthcare Management and Administration.  Maggie's role as practice administrator allows her to utilize her knowledge and skills to help our patients have an exceptional experience from their first interaction with our practice. Her bright smile and warm personality fit in perfectly with the rest of the MDP team.
"Being able to develop genuine patient relationships is one of the aspects I love the most about working at MDP. Being the first point of contact for most patients allows me the unique opportunity of getting to know patients and enhance the patient experience before they even enter our office."
Originally from Gorham, NH, Maggie recently moved to Gloucester and has been enjoying exploring the North Shore. In her spare time, Maggie enjoys hiking in the White Mountains with her dogs Tuck and Parker, as well as spending time relaxing on Sebago Lake and baking.
Q: If you weren't working for Martins Dental Partners, what would your dream job be?
A: Before getting my MBA in Healthcare management, I considered going into occupational therapy. I have a passion for helping others, and I am so fortunate that my position at MDP allows me to do that every day.
Q: Other than Martins Dental Partners, what is your favorite Beverly, MA location?
A: Since moving to the area, the Dane Street Beach has become one of my favorite spots to visit. It is so nice to be able to walk down to the beach during my lunch break on sunny days!
Q: What's your favorite inspirational quote?
A: "There are no limits on what you can achieve with your life, except the limits you accept in your mind"- Brian Tracy
Q: If you could travel to anywhere in the world, where would it be?
A: Top on my list of places to visit has always been Ireland, which I was recently able to cross off after an amazing trip in May with my Mom. Next up on my list is either Hawaii or Italy!
Q: What are you currently reading?
A: I recently started reading Liane Moriarty's Big Little Lies, after getting hooked on the HBO series based on the novel.
Visit Martins Dental Partners for exceptionally relaxing General & Cosmetic Dentistry in Beverly, Massachusetts. Call us at 978-288-1946 or contact us online to make an appointment to meet Maggie and the rest of our amazing dental team!