Do you have misaligned or crooked teeth and wonder what you can do about it? Have you considered veneers but determined they're not the right fit for you? Have you considered braces but feel you're too old for traditional orthodontic treatment or fear how they'll alter your appearance or impact your daily life? If you answered yes to any of these questions, Invisalign orthodontic treatment from Martins Dental Partners in Beverly, MA may be just what the doctor ordered.
Invisalign is a modern, invisible and painless approach to straightening your teeth. Using advanced digital orthodontics, a series of custom-made aligners created just for you gradually shift your teeth into the desired location leaving you with a beautiful, straight smile.
The Invisalign Process
The process starts with a free consultation. The consultation is an opportunity for you to speak with one of the doctors at Martins Dental Partners to discuss your goals and the options available to you, including Invisalign. If you determine Invisalign is the right choice for you, the dentist will take x-rays, photographs and impressions of your teeth. Then, the dentist will create a 3D image and detailed treatment plan which helps you to understand the entire process, from start to finish. Finally, the dentist will order the full set of custom-made, clear invisible trays specifically for you. When the trays arrive you simply begin wearing each set of aligners, typically for two weeks at a time, and watch your teeth move gradually until they've straightened into final position.
A Convenient Approach to Straightening Your Teeth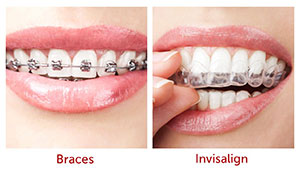 Wearing Invisalign clear aligners, made from medical grade polyurethane won't hurt or result in sore gums the way traditional braces sometimes do. Switching to a new tray rarely causes pain or headaches. And of course, your dentist will be with you every step of the way to ensure a comfortable process and successful outcome!
Because Invisalign aligners are removable, you can continue to enjoy your favorite foods without fearing that food will get stuck on your braces and brush & floss as you normally would. The best part? Most people won't even know you're straightening your teeth!
Why Martins Dental Partners?
Martins Dental Partners is a multi-specialty General & Cosmetic Dental Practice located at 130 Cabot Street in beautiful Beverly, MA. Our mission is to perfect the Dental experience. We believe a relaxing & enjoyable dental visit is possible and strive to exceed any expectations you have regarding a visit to the Dentist. For more information or to schedule an appointment with Dr. Valerie Martins or Dr. Sukhpreet Heer, please call 978-288-1946 or request an appointment using our website.