Martins Dental Partners Wins 2020 Readers Choice Award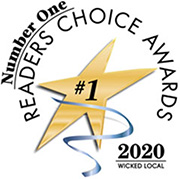 Martins Dental Partners is a prestigious 2020 Reader's Choice Award winner. The Dental Practice, located at 130 Cabot Street in Beverly, MA, was named the best Dental Practice in Beverly and the third best Dental Practice on Massachusetts' North Shore; see https://bit.ly/2W4kX0n.
"We are incredibly honored and humbled to have been voted the #1 Dental Practice in Beverly, Massachusetts and #3 in the Region by 2020 Readers' Choice Awards," says co-founder Derrick Martins. "At Martins Dental Partners, our mission is to provide exceptional care and an amazing patient experience, and this award reflects our team's efforts to deliver upon that promise. Dr. Valerie Martins and I would like to thank our wonderful patients and amazing team for this award."
About Martins Dental Partners
Our group practice offers comprehensive treatment for the entire family. Our team – composed of General Dentists, Dental Specialists and Hygienists – collectively excels in all aspects of general and cosmetic dentistry. The team's shared goal is to provide convenient, caring, all-inclusive treatment to every patient in a comfortable environment.
If you're already one of our patients, you know that our practice's modern, technologically advanced office in Beverly, MA is warm and friendly. All patients receive a tour of the office during their first appointment and are welcome to listen to music or watch Netflix using noise canceling headphones during treatment. We collaborate with you in terms of your specific treatment plan and schedule visits so you can complete treatment efficiently, saving time in travel and recovery, and eliminating the stress of going to another location or finding a specialist for complicated procedures. If you have dental anxiety, we also offer a range of sedation options to make the experience more comfortable for you.
For more information, or to schedule your next appointment, contact us today, at https://martinsdentalpartners.com.