If you want to straighten your smile find out how getting Invisalign at Martins Dental Partners in Beverly, MA can help.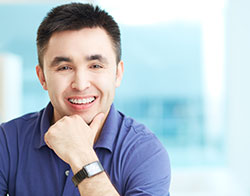 Most people dealing with crooked or misaligned teeth want to do something about it but often feel like they are too old for braces. If this is invisalignthe case this doesn't mean that you just have to deal with gaps in your smile or crowded teeth. In fact, our Beverly, MA dentists, Dr. Valerie Martins and Dr. Joseph Whitney, have a simple and easy solution for treating your malocclusions without needing traditional metal braces: Invisalign.
What is Invisalign?
Invisalign is a series of clear, flexible aligners that are custom-made just for you to fit over your teeth. Each aligner is specially designed to move your teeth into the proper position over the course of your treatment. By controlling both the force and timing of tooth movements Invisalign can give you a straighter smile. Before you even get your aligners our Beverly general dentists will map out which teeth should move and exactly how much they should move for each aligner you wear.
What problems can Invisalign treat?
Invisalign is a great option for people dealing with everything from minor to more serious issues. Invisalign can treat these common problems:
Protruding teeth
Crooked teeth
Overbites
Underbites
Crossbites
Open bites
How long will I wear Invisalign?
How long your treatment takes will depend on a lot of different factors including how severe your dental problem is. On average, most adults will wear their Invisalign for around 12 months. Teens who choose to get Invisalign may have a longer length of treatment.
What are the benefits to wearing Invisalign?
Since these aligners are almost completely invisible you can enjoy a more comfortable treatment with less irritation than you would if you were wearing traditional metal braces.
Also, since aligners are completely removable you can still eat whatever you want throughout the course of your treatment and you can easily remove your aligners prior to brushing and flossing your teeth. It can be frustrating to have to brush and floss around metal wires and brackets, but you won't have to with Invisalign.
Are you ready to find out whether Invisalign could finally give you the smile you've always wanted? If so, then it's time you turned to the experts at Martins Dental Partners. Request an appointment today!
Visit Martins Dental Partners for exceptionally relaxing General & Cosmetic Dentistry in Beverly, Massachusetts.